Looking for a short prom dress that would make you look and feel like a goddess? Look no further!
Check out these helpful tips on how to choose the best short gown for your special night and discover a lot of cheap and beautiful short prom dresses.
Want to know why so many girls are opting for short prom gowns? Because the are cute, comfortable, elegant and flirty and let you dance the night away with confidence and style. (Plus, you don't get to worry if someone may or may not accidentally step on your long dress)

Short Prom Dresses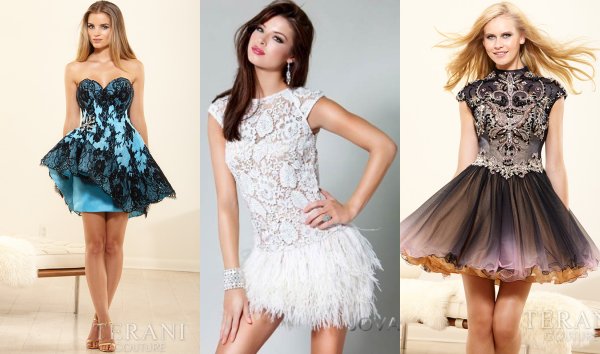 Wondering if buying a short prom dress is the right choice for you?
The answer is more complicated than a simple "Yes" or "No". With tons of short prom dresses on the market, ranging from provocatively short and sexy to elegant and stylish, there are 3 main things you need to consider before buying that seemingly perfect short gown: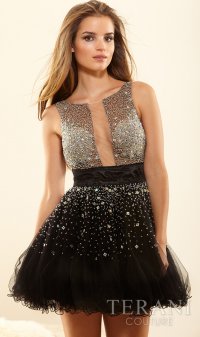 What length are you comfortable with?
If you want to go short for your prom night, make sure that you choose a length (short, above the knee, knee length, below the knee) that not only makes you look stunning, but also feels right.
Styling Tip: If your dress is very short, make sure to pick a gown that has textured skirt, such as feathers or tulle.
What is your school's dress code?
Some schools are more conservative than others, so if you are not sure – find out. Ask a classmate, a teacher or even your parents.
What is your prom theme?
This may not be that important when choosing the length and style of your short prom dress, but sometimes may help you.
What prom shoes go well with a short prom dress?
High heels! If your dress is long you can get away with a pair of cute flats, but if you want to wear a short gown to your prom night, you have to complete the look with a pair of fabulous high prom shoes.
They will make your legs appear longer and slimmer, and your outfit more stylish.
Short Prom Dresses Under $100
If you don't want to spend a fortune, but you still want to look gorgeous, take a look at these beautiful cheap short prom dresses under $100: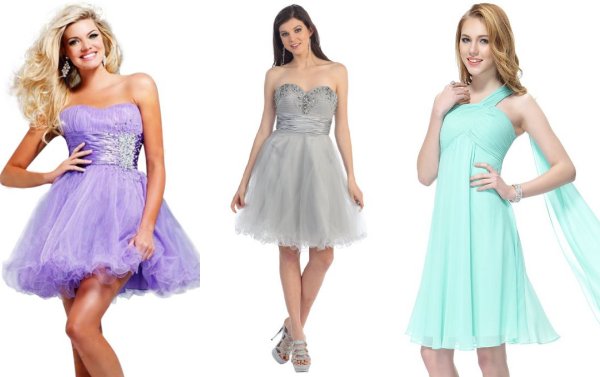 Get these dresses here:
Short purple prom dress $42.70 – $58.37 | Silver prom dress $92.99 | Short blue prom dress $45.99 – $89.99
Short purple prom dress $42.70 – $58.37
Silver prom dress $92.99
Short blue prom dress $45.99 – $89.99
Cheap Short Prom Dresses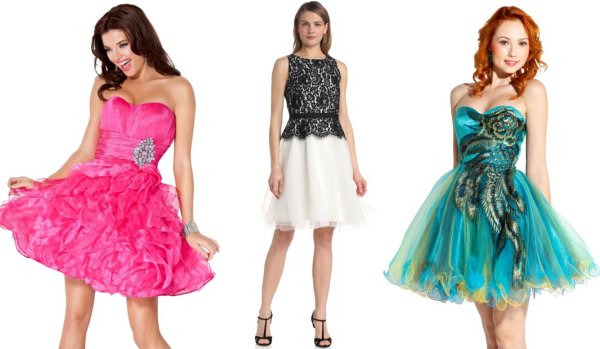 Discover the best selection of cheap short prom dresses HERE!
HERE
Plus Size Short Prom Dresses
Contrary to popular believe, short prom dresses are not only for slim girls. More and more curvy girls are buying short gowns for their prom night. A knee length or below the knee plus size short prom dress, with details on the right places, can not only make you appear slimmer, but it will make you look glamorous too!
Here are some amazing plus size short prom dresses: