Red is Passion
Looking for red prom dresses? Wondering if you should buy a red gown for your special night? Check out these helpful tips and find out for yourself!
What does wearing red mean?
Red is a warm and positive color, radiating a strong and powerful energy.
Wearing a red dress can boost your confidence. It is often associated with danger, passion and love.
Is a red prom dress the right choice for me?
If you identify yourself as a strong and passionate person, yes, a red prom dress would be perfect for you. …Or if you just want to make your ex jealous by looking super sexy, still a great choice! 😉
How to pick the right red shade for my skin tone?
Everybody can wear red, as long as they pick the right red for their skin tone.
Cool skin – usually means you have light, pale skin that goes well with blue-based and pink-based reds. Like cherry red, ruby, crimson, and strawberry.
Long red dress vs. Short red dress
Warm skin – often means your skin in generally darker and goes well with bright orange-based and yellow-based reds, such as fire red, poppy, tomato red, and maroon.
You can take a skin tone quizz here.
here
Short red dress or Long red dress?
Its a personal preference. Regardless of your body type, you can make both short and long dresses work by choosing the right style and accessories.
You just have to ask yourself: are you going to dance all night (hence pick a short red dress) or is your goal to look glamorous (hence pick a floor length red gown).
Red Prom Dresses
Some of the designers with the most gorgeous red evening dresses include Jovani, Sherri Hill – mostly short gowns, long chiffon dresses from Faviana, sexy red dresses from La Femme, Adrianna Papell.
Jovani
Sherri Hill
Faviana
La Femme
Adrianna Papell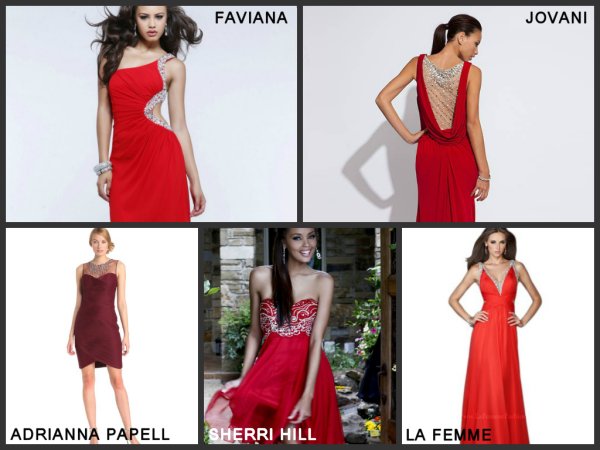 Short Red Prom Dresses
Some of the cutest short red gowns for this year!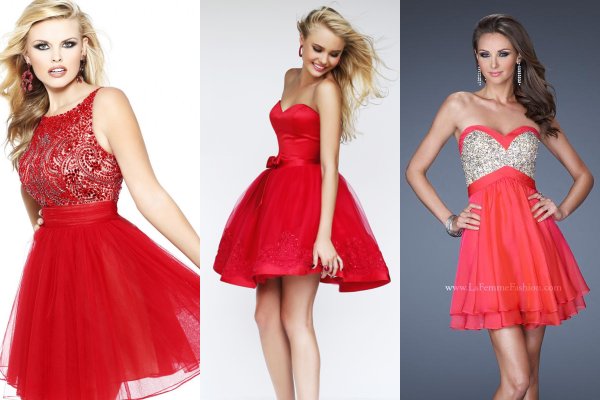 Affordable Red Prom Dresses Under $100
Making a statement by wearing your gorgeous red prom gown doesn't necesserly mean breaking the bank! You can look amazing even on a budget. Check out these cheap red prom dresses: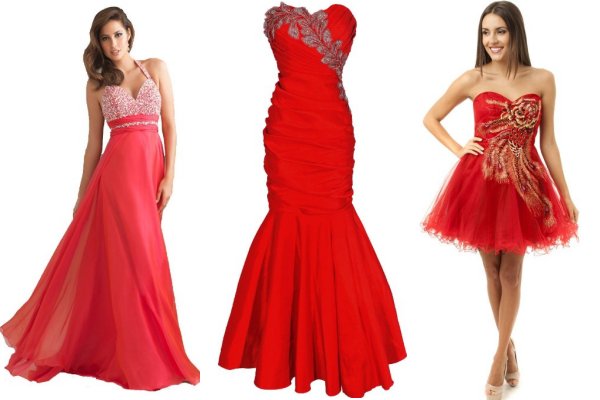 1. Sequin red dress by FairOnly | Price: $89.00
2. Strapless mermaid red dress by PacificPlex | Price: $99.99
3. Short peacock red dress by Fiesta Formals | Price: $59.00
Sequin red dress by FairOnly
Strapless mermaid red dress by PacificPlex
Short peacock red dress by Fiesta Formals
What is the best prom dress style and color for my body shape?
As a rule of thumb, if you have a smaller frame, go for brighter reds.
On the contrary, if you have a bigger frame, go for darker or orange/brownish reds and dresses with patterns and embellishments along the neckline and/or along the hemline.
What accessories to wear with a red prom dress?
For a formal occasion as your prom night, red dress is a bold fashion statement on its own, so you don't want to overdo it with a lot of jewelry. By adding simple, yet classic details, you will keep the dress the focal point of your outfit.
Depending on your personal preference and dress details you can pair it with silver, gold or black jewellery and shoes. And if you want to show off your wild side, consider wearing shoes or a piece of jewellery with leopard pattern on it.
If your red prom dress has sequins, stones or any type of embellishments on it, minimize the accessories to an earrings and a bracelet.
Red Prom Dress Accessories
Embellished long red prom dress with silver & black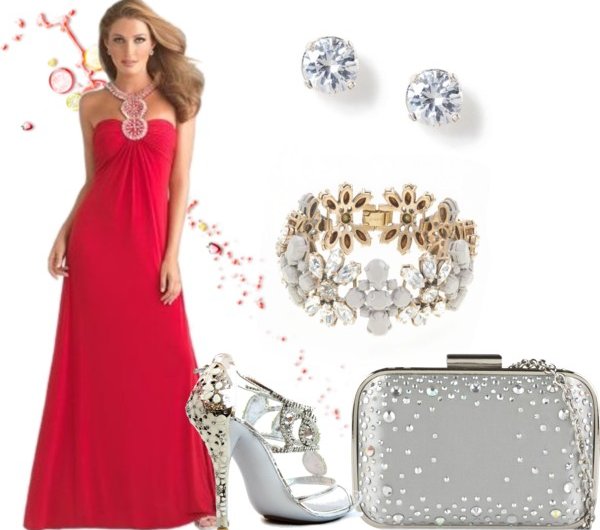 Long red prom gown with silver & white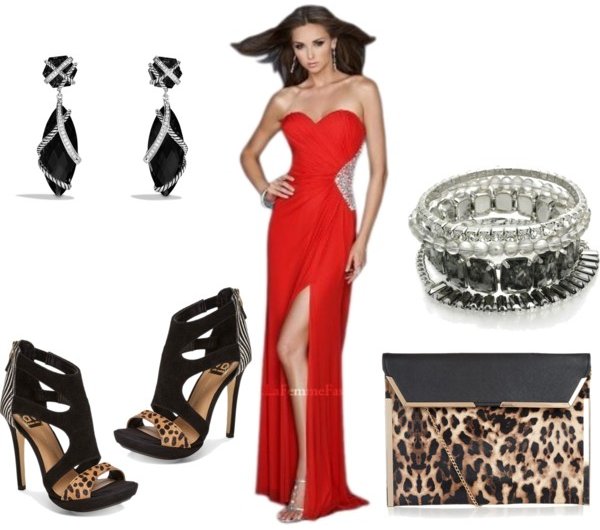 Long strapless red prom dress with black & leopard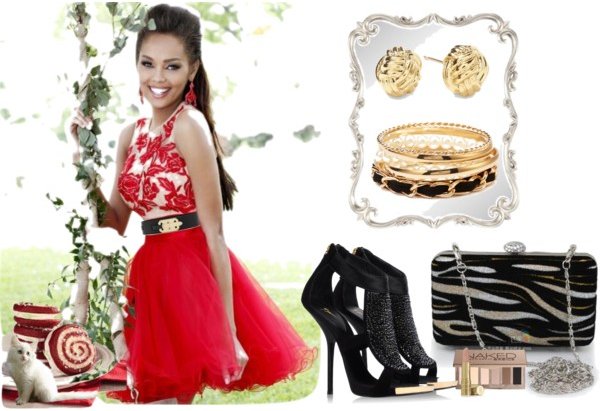 Short red prom dress with black & gold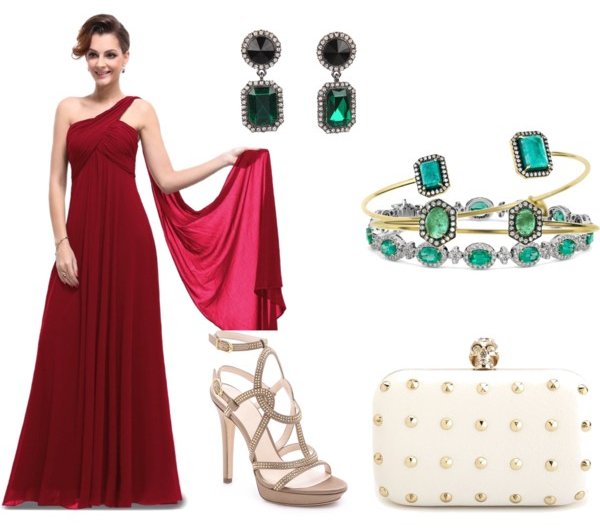 Long wine red prom gown with nude & emerald green jewelry
Choosing prom makeup for your red dress
The best makeup looks to complement your red prom gown would be smokey, silverish or pin up girl.
Or you can go with natural eye makeup and bold red lips.