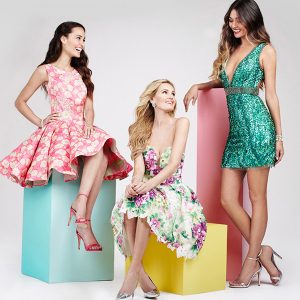 Jovani's large selection of homecoming dresses has the spirit to match your ambition for the school year ahead. If you're going to do something constructive in the summer break, then getting the right look for your return to school should be it!
homecoming dresses
Nothing states your intent like the homecoming game, parade and ball. Jovani's sassy range will help you make your mark at this special occasion. That's regardless of wherever you're headed back to.
We'll ensure that you're the talk of the school for the upcoming year. That's for all the right reasons! Even if your team wins, loses (as if) or draws the first big kick-off, we'll make sure you score the right result!
Planning your arrival at the homecoming dance should be fun. You'll want a perfectly fitting dress.  It's not the Prom, so remember the etiquette: a little more formal, as your school year ahead is a serious consideration.
That doesn't mean you can't arrive in a fun, flirtatious dress that catches everyone's attention. Movement, grace and elegance should flow through the lines. But yes, with just that little bit of sparkle, you must dazzle!
Tradition Meets Trend in our Homecoming Dresses Range
Jovani focuses on not only creating on-trend style. We aim to make a fashion statement true to our original look. We want to help you find your perfect homecoming dress and make a choice from our countless, timeless looks.
The collection boasts captivating styles, in which blossoming girls can find her true self. That's especially for a big event or special night. Jovani reaches deep down into the soul to bring out the sparkle in every high school girl.
High school is a voyage of self-discovery and that includes finding your own fashion sense too. The vast scope of our short, mid-length and even long homecoming dresses offers everyone a clear path on that journey. You can find something to reflect your individuality.
your own fashion sense
How will you (or anyone) come to know the real you if you cannot see your reflection in your outfit?
That's why we begin with chic, sky-high minis, but also offer more modest knee length dresses. If you want to go strapless, we have the dress that fits like a glove. For a more flattering look, there's plenty in our capped sleeve range to choose from.
We have also travel the spectrum in our colors. At one end, we have vibrant emerald and sunshine yellow. At the other, metallic tints to match the fire of Fall.
Get Ready for Your Crowning Moment
T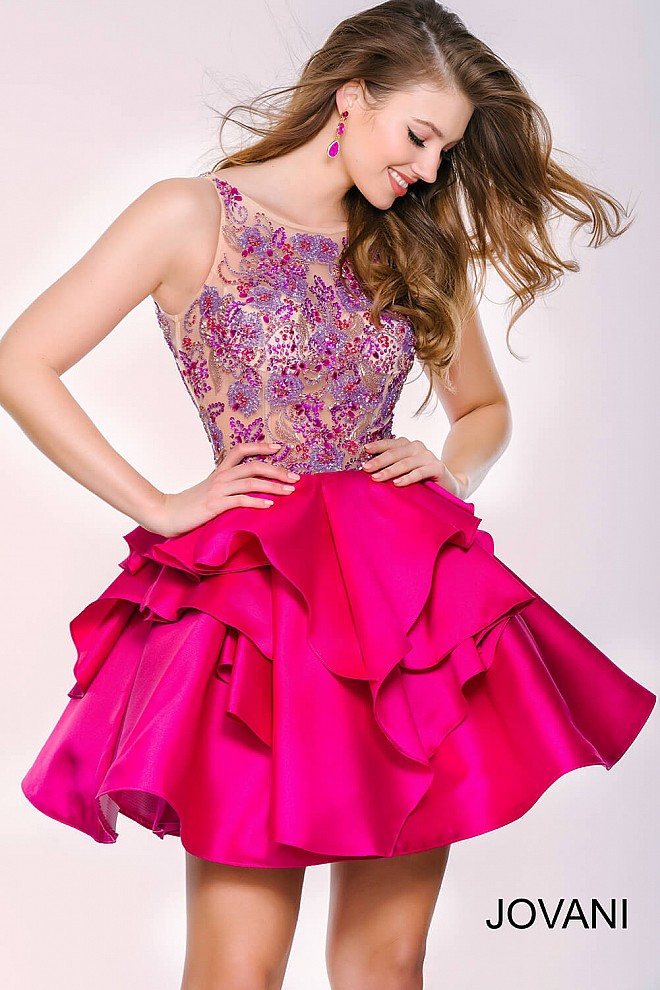 here can only be one homecoming queen. If that's going to be you, you need the wow factor. That will shine through in your dress.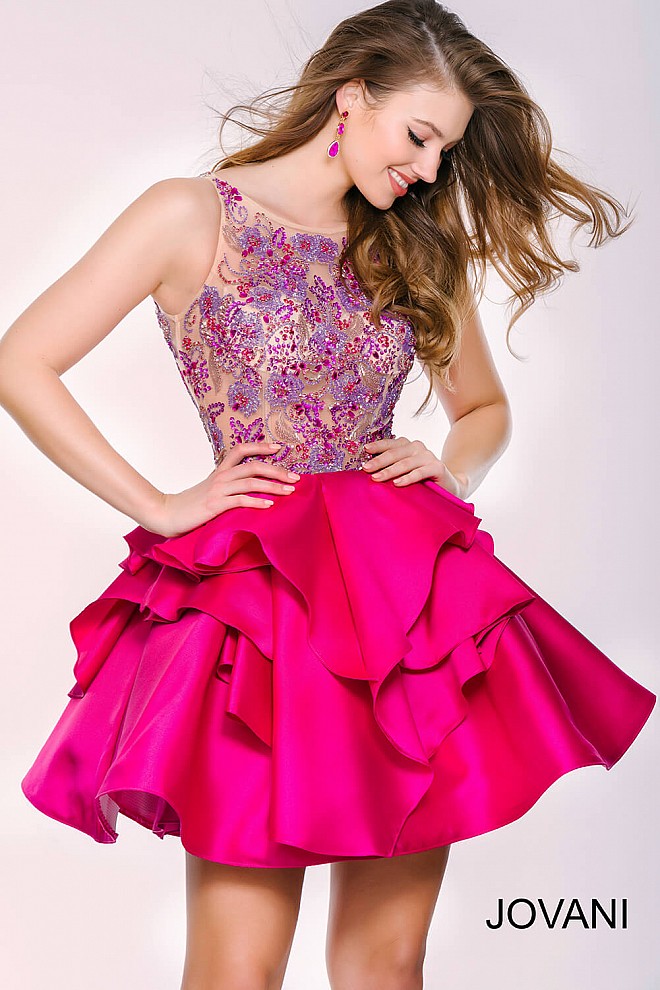 That's where Jovani's experience on the catwalk sets you apart. Our brand is synonymous with delicate beadwork and intricate embellishments. We don't skimp on that tradition in our homecoming collection.
We use the same textured and metallic fabrics that have seen so much success in 2015 in our homecoming range. Contemporary flair meets exceptional workmanship in every single style. Great attention to detail and creating a flattering structure.
In short, it's a dress collection filled with a range of attention-grabbing styles. These are perfect for the young, composed high school teen. There's no greater way to make an impression that will last long after the school year.
Whatever look you're aiming for, Jovani will make sure you shine brightest of all. It's your moment in the spotlight so you can light up the floor at the homecoming dance. When your school crowns you homecoming queen, you will be the star, your dress is the supporting cast!
To begin your quest for that crown, find your nearest Jovani store using our on-site "where to buy" facility. Your footman awaits.
"where to buy"